For designers to get their work done (and meet deadlines, but that's another story), they need to be inspired. In today's fast-paced information technology (IT) and commercial environments, however, designers also need cutting-edge UI/UX tools for prototyping to aid in the simplification of their work.
As a result of combining the User Interface and User Experience phases of development, prototyping is a complex process that requires up-to-date tools for designers.
User interface design tools streamline the process of creating wireframes, mockups, and prototypes.
User experience design considers the whole picture, including the structure of the designed visual material, how it represents user expectations, and how it influences user engagement.
By incorporating many key steps—such as visual weaving in the design, building prototypes, transforming static designs into interactive artboards, managing the designer-developer handoff from beginning to end, and communicating ideas and results to stakeholders or decision-makers—a modern prototyping app can handle both UI and UX.
Examples of UX Laws in Action at Fortune 500 Companies
Now, let's examine the following with regards to the seven most popular prototyping tools:
Prototyping Tools: What Are They?
An important aspect of creating a great user interface and user experience is the use of prototyping tools. They allow for the modernization of processes, the simplification and speedy production of design prototypes or wireframes, the testing of features by designers, the facilitation of early user testing, the demonstration of fundamental user flows, and the provision to end users of a representation of the product's appearance and behaviour. The vast majority of these programmes also:
Participate in a software walkthrough by verifying the app's functioning and aesthetics (or software peer review)
Bring to life interactions with practical parts and finer subtleties like momentum scrolling.
Improve development plans and code's functionality by putting together better blueprints.
Serve as a centralised hub, enhancing team cohesion and facilitating open dialogue by connecting everyone involved.
Give you the option of using pre-existing design patterns or creating your own to give your prototype an edge.
Help you feel more prepared to propose your idea to a group of important people
Prototype and prototyping tools allow you to explore and refine your ideas before committing to them fully. You'll be able to make necessary adjustments to designs ahead of time, assess your own work, identify branding and aesthetic inconsistencies, aggregate helpful input, and save your development team unnecessary iterations.
You Can't Get By Without These 18 Essential Plugins for Figma
Can You Walk Me Through the Process of Using Prototyping Tools?
Time constraints, financial constraints, the demands of stakeholders, the needs of users, which are constantly evolving, and the capabilities of the devices on which a product or design will ultimately be used all contribute to making the design and development process one that is both intricate and non-linear. The five phases of design thinking, as outlined by Teo Yu Siang and the Interaction Design Foundation, are: empathise, define, ideate, prototype, and test. However, the sequence of these steps is not always fixed; testing may occur before the empathy stage; prototyping may result in new ideas; testing may hasten the problem's description; and so on. There are several permutations of the consecutive actions.
We feel that these quick tools and software for prototyping contain enormous promise for modern designs due to the complexity increased by the continual struggle to promote client engagement and unrivalled user experience. We at Infragistics employ apps for prototyping because they provide a fresh, unified, and consolidated approach to user interface and user experience design.
There are a plethora of advantages to adopting a visual design toolkit, such as the potential to save time when making new screens and the elimination of tiny, repetitive design jobs via the construction of bespoke components and their subsequent reuse.
"In place of actual "prototypes," I utilise prototyping software to make high-fidelity mockups of my designs (when I say prototypes, I think of wireframes). Yet sometimes I'll bring in some interactions to make it appear more like a high-fidelity interactive prototype. In my projects, I design screens and build bespoke components that I subsequently put to good use in other places. Because I take use of freshly introduced features and make these parts as adaptable as feasible, they gradually grow more potent and useful. Moreover, I can spend much less time making new screens because of their use." User Experience in Product Development Director at Eyecone : Girish solanki
"The easiest method for me to express a difficult notion or even simply the user experience is to build a prototype." The customer will have a much easier time seeing and understanding the design solution I'm proposing thanks to the prototype I've created for them. Graphic Designer in Marketing @ eyecone, Girish solanki
11 Best Plugins for Figma to Speed Up Your Design Workflow and Make Beautiful Work.
"When presenting my findings in the field of user interface design, I often make use of prototype tools to demonstrate things like basic interactions, animations, user stories, and user flows. Most of the time, I can include media like films and gifs into my designs with the aid of special plugins. I've dabbled with HTML and CSS before, just to try out different layouts and see how they work. When it comes to user experience (UX), these kinds of graphical software solutions come in and help me design user flows and data structures. I like to sketch up wireframes by hand or use a pen and paper. UX Designer in Product Development @ Infragistics, Florencia Buenahora
Being the UX Manager for Infragistics's product development means that my team and I prototype often. When confronted with a design issue or challenge, I initially jot down some rough sketches of potential solutions, from which I choose one or two to develop further visually and interactively. Here is where I begin the process of prototyping, which ultimately leads to the specification and handoff to developers who will implement the feature under my direction.
A Guide to Identifying the Best Prototyping Tool for Your User Interface/User Experience Designs.
Digital automation platforms of this sort are certainly not hard to come by in the present day, but the real issue is whether or not the one you've chosen to invest in has the necessary capabilities to assist you complete the task at hand and whether or not it's worth the price.
Key considerations and questions to ask while selecting prototype software for use in creating wireframes, mockups, gathering input from customers and colleagues, and anything else relating to the design process are as follows:
Advancement in Knowledge
Before signing up for a paid plan or downloading a free trial of a prototype tool, you should evaluate how well the programme fits your design needs and how well your knowledge and experience allow you to adapt to it. To be sure, the ability to impart information and the prospect of enhancing one's skillset while mastering a new system are both crucial. However, it is sometimes more crucial to consider how often you really want to use the instrument, how easy or tough it is to get a grasp of, and how much time you can afford to devote to learning.
Usage
Look for a prototype tool that mimics your process as closely as possible, is simple to include, and doesn't force you to take any unnecessary detours that slow you down. Because every project is unique, requirements are always shifting, trends are always developing, clients are always different, and prototyping tools tend to cater to specific needs and challenges, it's unlikely that you'll find a universal platform that can automate every aspect of the design process for you. Therefore, it is important to carefully consider the tool's potential applications before committing to its usage.
Prototyping with Low, Medium, and High fidelity
The prototype process may be broken down into three distinct phases:
Digital sketches and low-resolution images used for prototyping ideas and exploring layouts are examples of low-fidelity work.
The term "medium fidelity" is often used to describe wireframes that do more than just demonstrate structure; they also provide content and interact with users.
High-fidelity refers to a stage in the design process when the idea is fully fleshed out and the goal is to create a design that is functionally indistinguishable from the final product.
Consider what it is you want to make and whether or not the tool in question is appropriate for that task. Is a basic outline of the app all you need? Is it necessary to put forth and demonstrate a simple concept? Or maybe you need an app for prototyping that provides you complete freedom to experiment with a wide variety of features since the project calls for more complicated visual designs that include interactions, animations, and sample user-flows.
Abilities to Work in a Team
In order to build a design version that best suits any need, it is essential to get input from peers, stakeholders, and end-users. Therefore, it is vital to seek for a UI/UX prototype tool that allows for easy communication and cooperation amongst team members. It is crucial that everyone involved in the project be aware of its current status and development.
Cost
Ka-Ching! Carefully consider the budget you have available, the price of the programme you want to acquire, and the features it will provide before making a final decision. Avoid settling for free or cheap software if you can help it; such programmes often lack important features and functionalities. Similarly, if you're on a tight budget, you shouldn't overpay for a feature-rich, pre-packaged product that you'll never use.
The 7 Best Prototyping Tools 
Indigo.Design 
Indigo.Design is the best choice if you want to hasten the development of your app by cutting down on the time it takes from the design phase to the coding phase. It's a fully-fledged programme that can generate production-ready code as well as prototypes. It also facilitates cross-team communication and user testing in real time via the usage of shared visuals.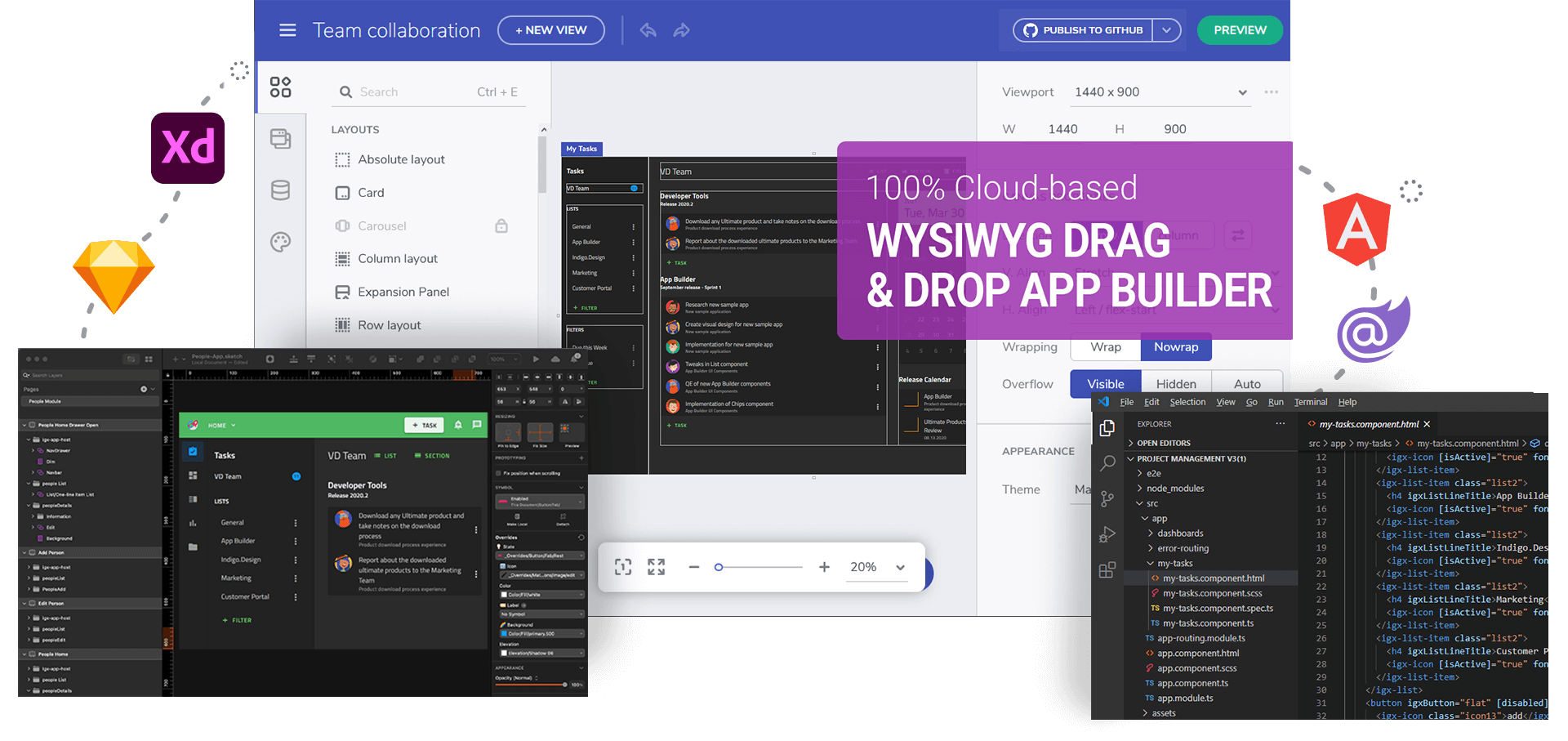 When would you use Indigo.Design?
Providing highly-customizable examples of top-tier user experience and interface design
Code that can be used in production, is easily tested, and has a low barrier to entry for transforming ideas into code.
Compatible with popular vector design programmes like Sketch and Adobe XD, and shortly will have complete support for Figma.
Secure online areas for team, stakeholder, and client-side co-editing and collaboration
By combining real-time analytics with remote, unmoderated user testing.
You may now extract CSS, colours, size, and positioning code from your designs with the help of the provided inspect tool (similar to Zeplin).
The ability to connect to any standard data source, such as a REST API, as well as other less typical data sources.
Alternatives to the default theme, such as a theme builder, are available.
Code preview and code generation in real time for Angular are both included in this WYSIWYG app builder (React, Web Components and Blazor coming soon).
Extremely simple to pick up and use
In what ways does Indigo.Design fall short?
There aren't a lot of convenient pre-made examples to choose from.
If too many people in Indigo can cooperate and exchange knowledge at once, things might become confusing.
Cost Analysis for Design
There are a variety of price points available:
Plan bare bones: $39/mo. or $399/yr. per user
superior value strategy Each user is charged $99 per month or $1099 annually.
On-premises, or "On-Prem," refers to a licence for a single server, secure container used for deployment in a company's own data centre.
Securely embed the Indigo with only one licence, thanks to our "Embed" feature.
Create your own apps by combining design tools
Sketch
It is one of the most popular digital design tools since it facilitates the rapid creation of prototypes and high-quality mobile design layouts, as well as the outlining of concepts.
When would you use Sketch?
Constructing and testing alternative designs while simultaneously reducing development time.
The simplicity and ease with which it may be used make it perfect for quick prototyping or demonstrating user stories.
Multiple libraries, symbols, and components, all of which are regularly updated.
Plugins, such as the useful link, The use of automated layout software, a magic mirror, and the Git sketch
Simple interface for making any kind of vector graphics you can imagine
Compatible with a wide variety of software packages, including Invision and Abstract.
Please list the drawbacks of using Sketch.
Not enough area for teamwork and dialogue.
Inadequate picture editing features Prevents design comparisons
There is no lite version available
Quickly Summarize Expenses
Prices for Sketch start at $9 per editor per month or $99 per editor per year. There's also a no-risk demo version you may try out.
Figma
Figma is a web design and prototyping app that may be used in the cloud or on a company's own servers.
As a tool, what do you recommend Figma for?
Offering a wide variety of tools for modelling and simulating design processes
Thanks to the available design formats, plugins, and templates, wireframing and prototyping have never been easier.
Prototypes are easily accessible inside design portfolios.
The overlay and swap interactions are really useful.
It works in any web browser, and data may be uploaded to the cloud in a flash.
Possibility of simultaneous participation in real time
Multiple add-ons
Constantly updated
Which drawbacks does Figma have?
One's learning curve may be high and challenging.
Only the business plan has the functionality for monitoring the statistical output of design systems.
Sometimes it takes too long for files to load.
Inconvenient in non-online settings
Explanation of the Figma Cost Structure
Its monthly fee per feature begins at $15.00.
Adobe XD
In addition to creating wireframes and applications, Adobe XD also allows you to make high-fidelity prototypes, work in teams, simply arrange animations, gather feedback, incorporate drag-and-drop capabilities, generate 3D designs, and reuse them.
Who can benefit most from Adobe XD?
Easily create working prototypes, wireframes, and animations
Put together a test plan on many platforms
One-click 3D visualisation of your projects
With shared components used in many design processes
Includes tools for rearranging your layouts, such as resizing, moving, and aligning elements.
There is no cost associated with using this programme.
A breeze to pick up and use
Discussion of handoff plans and feedback gathering
Which drawbacks does Adobe XD have?
You are unable to transform your working model or wireframe into a finalised product.
You can't use it to try out your mobile prototypes or write code.
There aren't very many add-ons
Adobe XD Pricing Overview; the free version has several limits and constraints
Pricing for Adobe XD begins at $9.99 per month per feature.
Zeplin
This one serves as a medium for sharing and collaborating on designs. It's a great way to share your designs with the world and release your finished work from programmes like Figma, Sketch, Adobe XD, and Photoshop.
Which use case describes Zeplin the most?
Finalized designs' authoritative reference
brings together experts from different fields to work together
Produces custom requirements, resources, and code snippets
Reduces the need for time-consuming manual tasks like resizing, icon exporting, and margin calculation
Allows for interoperable parts that ease the transition from design to code.
simplifies the process of assembling and arranging various elements.
Exactly what are the drawbacks of Zeplin?
Far too many changes to software
Impossible to move around the interface
a sluggish desktop version
Disabled to comprehend the logic behind the design
Price Breakdown for Zaplin
It's ideal for smaller teams and costs just $6 per user each month at the very minimum. The plan that is suitable for medium-sized and big groups of users costs $12 per user per month.
InVision
As a digital platform, InVision enables designers to create sophisticated, user-friendly prototypes of their products. It facilitates teamwork and the free flow of constructive criticism by making it simple to import and export Sketch files. When many groups working on a new app use a common platform like InVision, the handoff between designers and programmers is streamlined.
For what kinds of projects does InVision shine?
The user-friendly layout makes prototyping and idea management a breeze.
With its ability to serve as a trusted hub for data, teams may effortlessly share information and solicit input.
Permits changes to be made instantly, so developers may get in on the action early to prevent misunderstandings, duplicate efforts, and wasted time.
Gives in-depth requirements
Integrates with preexisting software to improve product design processes
Which are the drawbacks of InVision?
Uses up a lot of bandwidth and memory in the browser.
Sometimes the Element Inspector is Wrong
Comparatively more challenging user interface
Sometimes there are problems with synchronisation
Not frequently do third-party plugins get updated.
Not conducive to assembling a large collection of interchangeable parts
A Look at InVision's Rates
The cheapest plan for using the InVision app, which includes three prototypes, is $15 per month.
Framer
Using this mobile-friendly prototyping app, you and your team may collaborate on the design and development of interactive prototypes, including responsive websites, mobile apps, and desktop software. It provides helpful hands-on instructions and has several intelligent parts for a quick start.
When would you use Framer?
Elements and products may be manufactured according to your specifications.
Excellent for personalising your prototype and making unique animations.
It supports all the aesthetic characteristics of contemporary CSS, is accessible from any gadget with a web browser, and allows for seamless manipulation of the layout's constituent parts.
The code is simple to copy and use by developers; it supports importing files from Sketch and Photoshop out of the box.
Rapid, high-quality replication of interaction patterns
Framer is compatible with WebKit, but does it have any drawbacks?
There is a lack of detail in the information that is handed along from the framer to the developers.
Inadequate possibilities for syncing with other applications
Tough starting point
An Overview of Framing Costs
There is a paid monthly plan that costs €19 per user, as well as a free plan.
There is a plethora of software solutions available to help you streamline your UX/UI design process; which one you choose will depend entirely on your project's objectives, how quickly you want to advance it to user testing, the adaptability of the tool itself, its data analytics features, integration with your workflow, collaborative capabilities, and ability to give your prototype an edge.
Among them, which do you feel most at home with?
Image by Freepik Image by user6702303 on Freepik